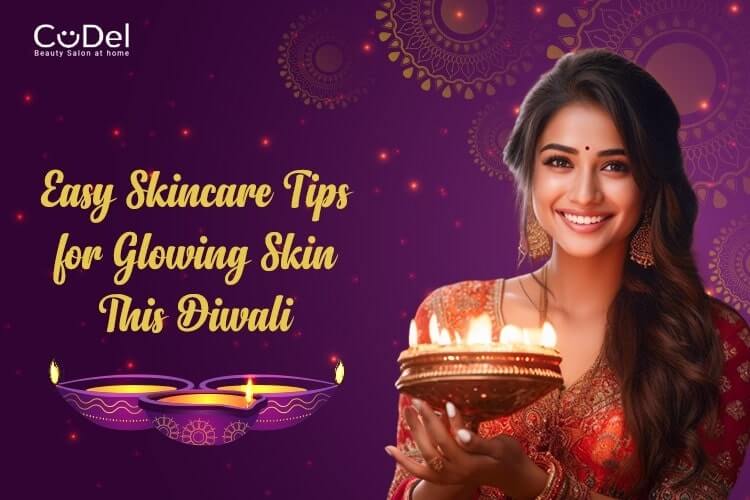 Diwali is a festival of lights, sweets, flowers, new outfits and many more that bring joy and enthusiasm to every Indian. The festival of Diwali is around and our planning for catering to sending Diwali gifts to the relatives is all set. 
But, take a second and think about what you forget… Oh yes, your skin! 
Cleaning and dusting are part of Diwali. Pre-Diwali dustings can make your skin dull and dry. So, it would be a good idea to make your skin healthy and more radiant this Diwali. 
Adding and following a healthy skincare regimen daily can bring a significant change to your skin's texture and complexion. Read this blog to achieve glowing skin this Diwali. 
Here we have some tips to Celebrate Diwali with healthy, happy, and radiant skin. 
Skincare Tips for This Diwali 
Use a Cleanser 
Add cleanser in the first step of your skincare routine. Try cleanser with deep cleansing properties and good exfoliating effects. Alpha Hydroxy Acid (AHA) comes out as an amazing exfoliator. So, taking a cleanser enriched with AHAs would be the right decision to make alongside all other worthwhile Diwali investments.  
AHAs restore natural radiance and bring incredible anti-ageing benefits to your skin. Its collagen synthesis property promotes youthful skin. To make your skin radiant in Diwali functions, AHAs can be the best choice. 
Note – Before using any face wash, examine your skin and buy accordingly. 
Give Hydration Reminders to Your Skin 
Diwali keeps you engaged in various tasks that make your skin dull and dry, so keep yourself hydrated. Also, this festival arrives during winter, which makes the skin too dry and rough. Drink enough water to keep your skin moisturised and hydrated. 
Moisturisation also helps improve your skin elasticity. Also, drinking adequate water helps release toxins from your body, ensuring you healthy and glowing skin. 
Exfoliation is the Key to Glowing Skin
To achieve glowing skin, get rid of all dead cells that appear on the skin due to dust and pollution. That's why, one must apply a good scrubbing process that sheds all dead cells from the uppermost layer of the skin. So, add an exfoliation to your skincare process to prevent clogged pores and allow your skin to breathe. 
Opt for a natural scrubber because it gently scrubs the skin without causing irritation and redness. It also removes dead skin cells and promotes new skin cell regeneration, leading to bright and glowing skin. 
Note – Exfoliate smoothly to achieve glowing skin. Don't overdo it, as it causes irritation and redness. 
Sunscreen is a Must for Glowing Skin
The harmful UV rays of the sun can increase sebum production. The unprotected sun exposure triggers acne, hyperpigmentation and breakouts. That's why sunscreen is a must for every season. No matter the weather condition, the harmful rays have the ability to penetrate into your skin.
If you are planning to go for a lot of shopping this Diwali, opt for a broad-spectrum sunscreen that doesn't leave any white cast. Use sunscreen that gives a matte finish and comes with resistant properties as it might become your perfect under makeup for this festive season. 
Take Proper Sleep 
During festivals, waking up during the night can be a common process. However, a poor sleep cycle can take a serious toll on your skin health. Try to sleep properly as improper sleeping reduces moisture levels in the skin, leading to a dull complexion and tired appearance. 
Try to Use Natural Products 
Chemical-based products can lead to inflammation and acne. Using non-comedogenic products, which do not clog your pores, help you prevent acne. 
De-stress Yourself this Diwali 
Yes, festivals come with lots of preparation, attending guests and supervising everything. But don't forget to relax yourself either. Once you are done with your work, put tea bags on your eyes and take a short nap. You can also try facial massage for more relaxation and glow. 
Conclusion 
You can add these skincare routines to make your skin more glowy and radiant this Diwali. If you want salon services at home this Diwali, book your appointment at CuDel – a professional home beauty salon. This can be your dream beauty destination, as the experts from the company provide rejuvenated services at your doorstep. Book your service now!