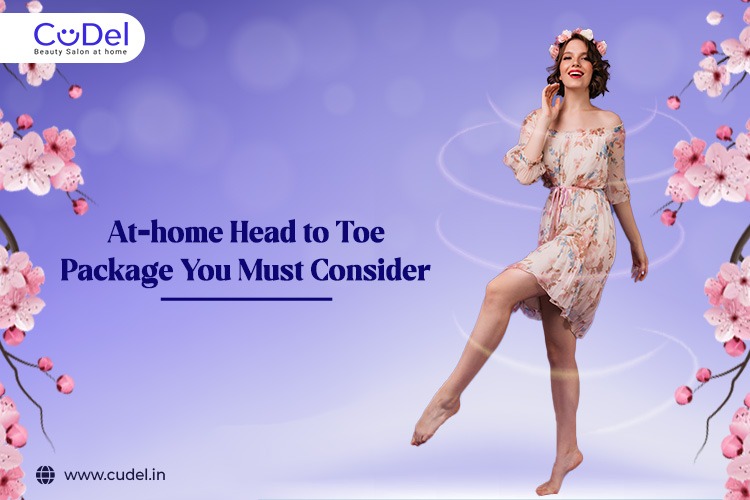 Taking care of ourselves never goes wrong. With household or office work, women also need relaxation and beauty tips. But going outside every time for beauty services can take lots of time and effort. With home salon services, women take benefits of beauty services in their comfort without bothering about traffic and time. 
We all love to take beauty services such as threading, waxing, facials, manicures, pedicures and many more. But what if you can get all that in the head-to-toe package? This package fulfils all your beauty needs at one time. You will get facials, waxing, threading, manicure, pedicure, hair spa and several other services under this package. Beauty experts visit you along with all the required beauty items and provide you with salon services at home. 
After booking your appointment, you just need to relax at home without having to wait in long lines and unhygienic conditions in parlours. Beauty professionals come to you at your comfortable time and follow all hygienic conditions while providing you with beauty services.
Service You Get in Head-to-Toe Package 
Hair Spa 
Our hair faces a lot from morning to evening. They need extra care to stay healthy and shiny. The pollution, dirt and tension dry out our hair and cause split ends, leading to more breakages. That's why the head-to-toe package involves this hair spa in it. It protects your hair from damage and makes you feel relaxed. 
Process – 
You need to be patient because the process may take 2 hours or more. 

The beauty expert takes oil or other formulations depending on the package. They part your hair section by section and apply formulation on them. 

Then a hair mask is applied to your hair and scalp. You have to sit this on your hair for 20-30 minutes. 

Meanwhile, experts can use a hot towel or silver foil to wrap your hair to take all the goodness of the hair mask. 

After that, they wash your hair and apply serum to them. The expert also uses a

blow dryer to dry your hair.
Facial 
A good facial helps ensure a healthy glow on our face. Head-to-toe packages consist of facials that make your skin glowing and radiant. Facials can be a great way to take away all the stress from your face and provide a youthful glow. The process is quite long and involves multiple steps. 
Process –
Experts bring facial kits with them that consist of a cleanser, steamer, scrubber, massage cream and mask. 

Firstly, they ask you to lie down in a comfortable place, so you can enjoy your facial expression perfectly. 

Then the process begins with a good cleanser to clean your skin perfectly. It removes all dirt and debris from your skin. 

After that, they stream your face to provide moisturisation and a healthy glow.

The fourth step is to exfoliate your skin scrubber, which takes at least 15 minutes. 

Then the expert massages your skin using a good massage cream. Lastly, use a face mask to refresh your skin and get a natural glow. 
Threading 
This package also consists of threading that helps remove hair from your brows and gives a perfect shape. So why visit the parlour for this service? With this package, you get the perfect process at your comfort. 
Process  
Eyebrows greatly decide your facial appearance. That's why trained beauticians always measure your face before making your brows. 
Measure your face to understand the suitable brow shape for you. 

After that, the expert takes the thread and starts making your brows. They may also use powder on your brows to make the process easy and less painful for you. 

At last, they use brow gel or aloe vera gel to soothe the pain. 
Manicure 
Look to maintain your hands and nails with the best-in-class manicure services. The process helps clean your hands and nails perfectly. It removes dead skin cells and makes your hands look moisturised, healthy and shiny.  
Process – 
Experts ask you to dip your hands in warm soapy water to soothe and soften dead skin cells. 

Subsequently, they take your hands out of the water and use a nail buffer to file and buff.   

The process also consists of cleaning cuticles along with massaging your hands using hand creams. 

If you want to go for a nail extension, experts put that on your nails. Otherwise, experts start painting your nails. Apply base coat and top coat and finish with cuticle oil to make them look more glam. 
Waxing
Waxing removes unwanted hair from your body. Usually, head-to-toe packages involve waxing full hands, underarms and full legs. It's usual to feel uncomfortable getting waxed at the salon. For which home head to head-to-toe package is perfect. 
Process – 
The expert follows all guidelines that come under waxing to ease the process. 

They apply wax to the unwanted hair growth and apply a removal sheet to it. 

After that, experts pull the strip to the direction opposite to that of hair growth. 

Lastly, they clean the area to remove all wax and apply some soothing cream or lotion to make you feel relaxed. 
Pedicure 
At last, your feet are left. Don't worry, this head-to-toe package consists of everything you need to make you feel relaxed and refreshed. The pedicure process makes your nails and feet look beautiful. The process makes you feel refreshed. 
Process – 
The expert removes all the old polish from your nails and soaks your feet in warm soapy water. 

This makes the process easy and effective. After that, experts look to eliminate dead skin cells from your feet. They use a nail buffer to buff your nails. 

The expert uses a massage cream to massage your feet and get it hydrated. 

Apply nail coats and cuticle cream.
Conclusion 
This is everything about the at-home head-to-toe package. Thinking of getting a head-to-toe package? Contact CuDel – a professional home beauty salon. It provides you with the best service by professionals. Contact Now!