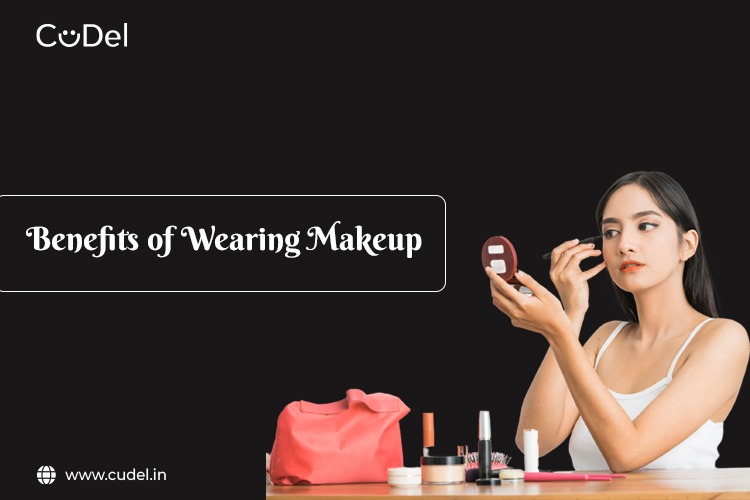 Makeup cannot be considered a fashion trend. It is involved in every woman's life from the past to the present. It not only provides an instant glow but also gives you the confidence to face the world. We started knowing a little bit about regular makeup from our mummy's makeup kits. We celebrate by sticking colourful bindis on our foreheads and putting an ample amount of lipstick while having fun in childhood.
But how Makeup becomes an essential part of our daily life is quite amazing. It is the most effective way to showcase our beauty to the world.
Here are the benefits of wearing makeup.
1. Makeup Makes You More Confident
The best part of wearing makeup regularly is the confidence we get. We started perceiving ourselves as more beautiful. Everywhere we go having makeup signifies we care how we look or carry ourselves in the crowd. We know that the first impression really works in the corporate or every organisation we go to.
2. Makeup Protects your Skin
Makeup not only makes you confident but protects your skin's outer layer. It helps get rid of harmful pollutants such as smog and pollution. When you wear makeup, it creates a barrier between the skin and the surrounding. Cosmetics you apply safeguard your skin from getting hurt easily and make you attractive at the same time. It conceals dark spots and other patches while protecting your skin.
3. Makeup Improves Your Look
Wearing makeup can improve your personality. You will feel full of confidence and grace to show your full work potential.
4. Makeup Brings Joy
Makeup gives you something to have fun with. You can enjoy the different vibrant colour combinations on your face. It brings happiness and a sense of creation out of a hectic schedule. Trying new shades of eye shadow or lipstick helps regain the self-confidence you might lose in the boredom of regular work. It makes your day more enjoyable.
5. Makeup Makes You Look Good When Getting Snapped
Wearing makeup enhances the photographs you are clicked for. It gives extra attention and focuses on your facial appearance. You can take picture-perfect clicks wearing the right makeup for your skin. As it shifts the camera angle to your face and attracts people toward your enhanced looks. You can take yourself in front of the camera without hesitating about your looks.
6. Makeup Makes You Look Younger
Wearing the right amount of makeup can make you look younger. It helps hide ageing signs like fine lines, wrinkles, and other appearances on the face. You can cover your dark circles and pigmentation by applying suitable products to the skin. It transforms the overall skin and makes it more smooth and radiant. That's how you start looking younger than your actual age.
7. Makeup Helps Cleanse Your Skin
When you apply regular makeup on your skin, it reminds you about cleansing the face. Applying makeup and removing it – both are important. You have to cleanse your face regularly at night to get rid of makeup residue and moisturise it after that. If you forget to cleanse the face, you can have pimple breakouts from the oil build-up in blocked pores. So wearing makeup gives you a chance to cleanse your face regularly.
8. Makeup Depicts Self-Care
Wearing makeup shows that you care for your skin. It depicts the self-care habits and daily skincare routine at the same time. You can enhance your mental health by taking care of your skin regularly. It brings internal joy and freedom of expressing the way you want. It levels up your confidence and your personal lifestyle habits. You start having control over your looks and personality and so on.
We have discussed the benefits of wearing makeup. It builds self-confidence in us. We start getting confident about ourselves. It brings a protective shield, enhanced self-esteem and joy into our daily life. However, if you require professional advice on the best makeup tips, contact us at CuDel. We are a trusted home beauty salon.