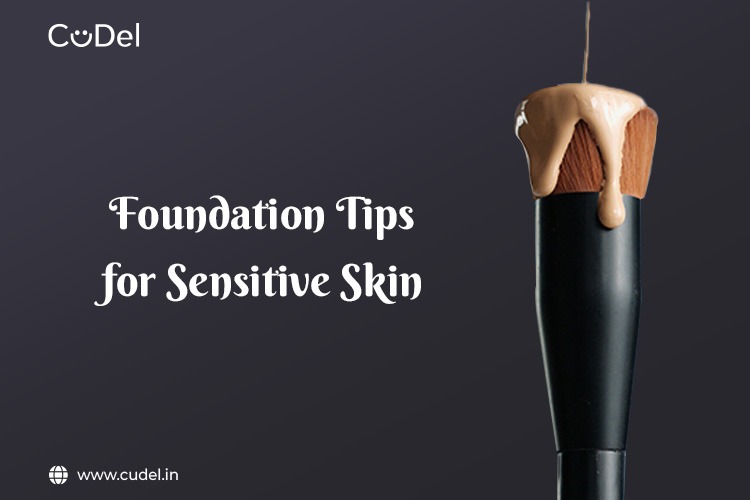 Having Sensitive skin by birth or environmental factors is a matter of concern. People with sensitive skin have to face a lot of skin-related issues like rashes, eczema, rosacea, and so on. They remain sceptical of using any kind of beauty products on their skin. But it's better to know what to use. Else infections may occur should there remain any chemical substance in the products.
These problems call for a suitable foundation. More so when you attend award functions, weddings, or any other special occasion. As we speak, the foundation is the base of makeup. It can be in liquid, cream, or powder form supporting further makeup products on the face.
There are so many types of foundation available in the market but not all are for people with sensitive skin. Usually, foundations help create an even, uniform colour to the complexion and cover facial flaws. Some of them even moisturise and protect your skin against damage due to exposure to the sun.
Here are the Foundation Tips for Sensitive Skin
You should follow some of the foundation tips given below. These can help prevent harmful outcomes of using inappropriate foundations. You can choose a better one to relieve your skin issues.
1. When people with sensitive skin use the wrong foundation, their skin dries and unevens with time. They get so many unexpected results that worsen their condition. Foundations include combinations of chemicals good for one skin type but damages the other. Use a suitable combination for your skin. Consult a dermatologist to figure out the combination that will work for you.
2. The most important thing in selecting the right foundation for your skin is the component list. You should select the right combination of components listed in the foundation pack. Choose a non-fragrance, non-waterproof, and hydrating foundation for your sensitive skin.
3. Choose a natural foundation over a chemical-based one. It can help you maintain a glow on your face. As your skin is sensitive, it can easily react when using a chemical-based foundation. So, prefer natural mineral products to prevent unexpected outcomes.
4. People with sensitive skin are suggested to avoid certain ingredient-based products. Fragrance and alcohol are the main ones to be neglected. They can cause major damage to your sensitive skin.
5. Some ingredients are suggested to be used in people with sensitive skin. Prefer coconut and jojoba oils over chemical-based products.
6. People with major sensitive skin issues are advised to consult a dermatologist or physician for exact medications. They can get quick relief and long-term precautions by discussing and knowing the reasons behind the issue.
Types of Foundations Available for Different Skin
Our skin is different just as we are by birth, nature, family, culture and other things. We must apply suitable stuff to get ourselves pampered the right way. So, have a look at different skin-specific foundations you can choose from based on your skin type.
Liquid Foundation
Liquid foundations usually come in water or oil-based solutions. It suits people with oily and dry skin. It works to smoothen a pigmented part of the skin.
Cream Foundation
Cream foundations are suitable for every skin type besides oily skin. It works as a heavier base to give you a more natural look.
Stick Foundation
Stick foundation is easy to apply with its gliding texture on the skin. You can highlight or conceal the required parts effectively.
Pressed Powder Foundation
Pressed Foundations are good for people with sensitive and oily skin. It provides light coverage and a matte finish.
Mineral Foundation
Mineral foundations are available in three forms in the market – loose, pressed and liquid mineral foundations. It provides optimum results when applied to sensitive skin.
However, if you want beauty services at home, CuDel's beauty experts are just a ping away. Ping us and get your skin top notch.