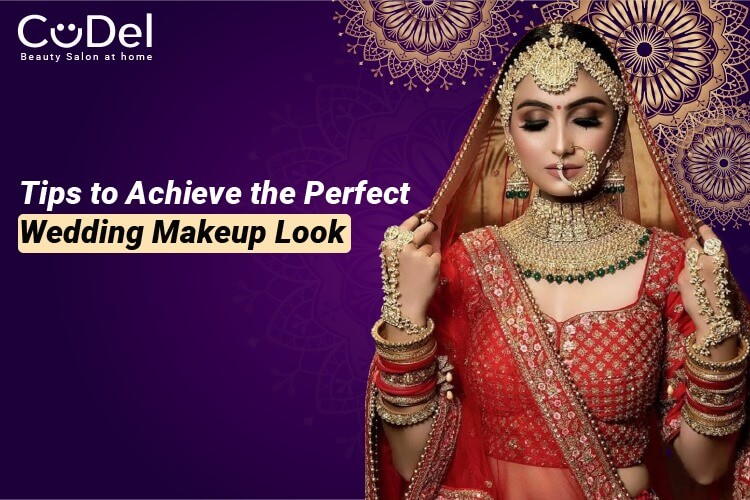 We all want to look perfect on special days. Especially, when the eyes of all are on us. Yes, we are talking about the wedding. We all have lots of dreams about our wedding, the dress we are going to wear on that day, makeup, jewellery and what not. Because wedding day is the most important and memorable phase for many. We know that at that time, lots of work is there and you have to focus on everything, from attending guests to selecting the perfect dress. But girl, don't forget one important aspect: your makeup. 
Achieve the desired look on your wedding that helps you enhance your natural look and confidence. Here, we share some tips to help you achieve a flawless wedding makeup look. 
Plan Ahead
Start planning your wedding makeup well in advance. Consult a professional makeup artist or conduct makeup trials to determine the look you want. Keep in mind the season, time of day, and your wedding's theme when deciding on the style of makeup.
Choose Long-lasting Products
Wedding days are long, and you'll want your makeup to stay fresh from the varmala to the vidai. Opt for long-lasting, waterproof makeup products that can withstand tears, sweat, and others.
Natural and Timeless Look
A timeless and natural makeup look is usually the best choice for weddings. Soft, neutral tones and a focus on enhancing your features rather than heavy, dramatic makeup can ensure you look like yourself, only more radiant.
Don't Skip a Makeup Trial
A makeup trial with your chosen makeup artist is crucial. This is your chance to discuss your preferences and test different looks. Be sure to bring reference photos and communicate openly about your expectations.
Prepping the Skin
On the big day, prep your skin by cleansing, toning and moisturising. Use a primer to create a smooth canvas for makeup application, helping it adhere better and last longer. Along with the face, our hands and feet play equally important roles. They can also make or destroy our look. That's why many newlyweds take manicure services at home before their wedding. This helps save time and in that slot, they can make more planning for their wedding. 
Foundation Matching
Ensure your foundation matches your skin tone perfectly. Test it in natural light to avoid any mismatch between your face and neck. You may also want to consider airbrush makeup for a flawless finish. If you don't have an idea about this, take advice from a professional. This will be a better option rather than picking the wrong product. 
Eye Makeup
Your eyes are the windows to your soul, so pay special attention to your eye makeup. Eye lashes, if put perfectly, can add drama to your look. Waterproof mascara is a must.
Setting Spray
Use a setting spray to finish your makeup and keep it in place. This will help your makeup last through the day and into the night, no matter how many happy tears are shed.
Touch-up Kit
No one wants to look weird after two or three hours of makeup. For that, create a small touch-up kit to have on hand for touch-ups throughout the day. Include blotting papers, lipstick or lip gloss, and a pressed powder to keep shine and maintain a fresh look.
Relax and Trust Your Artist
On your special day, relax and trust your makeup artist. They are experienced artists who know how to make you look your best. Try to keep your bridal party organised and on schedule to ensure everyone gets their turn in the makeup chair.
Practice Makes Perfect
If you're doing your own makeup, practise your wedding look several times before the big day. Take photos in different lighting to see how they appear.
Conclusion 
Remember, it's your day, be confident and enjoy it. Also, make a goal that makeup enhances your beauty instead of transforming you into someone else. Using these tips you can look the prettiest in your wedding makeup look. Weddings come with different rituals. Attending all these takes lots of your time. If you want professional advice, Contact CuDel – a home beauty salon. It provides you with the best services at your comfort. With CuDel, you don't have to worry about the timing. So, book as per your need.