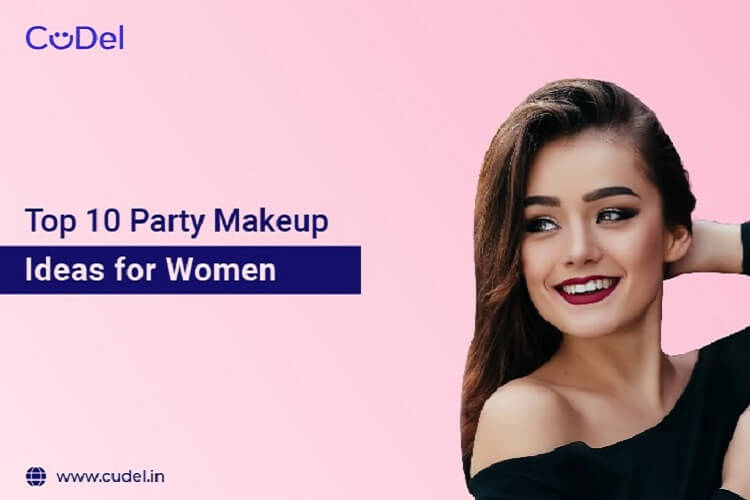 Nowadays women are more aware of fashion and makeup trends. They follow celebrities and famous makeup artists and are informed about the same. Makeup means applying beauty products like lipstick, eye shadow, and powder to get you attractive and elegant. Most women get specific makeup on special occasions. They try several popular beauty ideas and select the most suitable out of them. If you are searching for those ideas, consider choosing from these top ten.
1. Beautiful Bold Brows and Bold Lip Look
Having makeup that involves bold eyebrows and lips looks quite attractive. It shows you as a powerful and practical woman. It increases your natural eyebrow and lip features. You can execute this makeup idea on any special occasion like a party, wedding, and other functions. It will help you get more attention.
2. Heavy Eyeliner and Bronzer for a Funky Party Makeup Look!
Heavy eyeliner is a makeup trend nowadays. It makes your eyes more impactful. You can wear it with a dark glow on your cheek using a bronzer. Bronzer with dark eyeliner can get you an amazing look. It will make you look mesmerising. You will look stand-alone in the crowd. You can attend a mehendi or even a cocktail event with this look.
3. Bold Eyeliner Look with Wine Lips!
Using bold eyeliner for your eyes is a great makeup idea. But it can go inevitably with wine lips at the same time. Bold eyeliner with a wine shade will get you more attraction and applause. You will feel more confident and beautiful having this look.
4. Matte Base with Blush and Highlighter
Makeup starts with creating a base to apply makeup products. This includes the effective use of primer and foundation. It should blend with your skin properly to provide a smooth surface. You can have other products on your skin after creating a matte base complemented with blush and highlighter. This makeup idea is quite popular among fashion followers.
5. Shimmer Eyes
Shimmery eyes are a makeup trend that highlights your eyelids using glittery eyeshadows. It gets you shiny and more attractive. It holds people's attention to your eyes. You can feel this world more beautiful by having beautiful eyes with this makeup idea.
6. Pastel Eyes Makeup
Pastel eye makeup is one of the trending makeup ideas that involve pastel eyeshadows. It makes your eyes shine with light pastel colours. You can try using pastel eyeshadows for better eye makeup. It develops great finishing and influences people with its wide variety of amazing colours.
7. Blue Shimmery Eye Makeup with Pink Lips
Having blue shimmery eye makeup is a popular makeup trend. The blue eyelids reflect natural phenomena within. So, if you are having pool parties for a function that involves water, wear it confidently. It will help you inspire people assembled there.
8. Matte Makeup Look with Grey Eyes
A matte makeup gives your face a matte finish. It hides all your imperfections like scars, pigmentation, and so on. Your face looks shiny. Now you can add grey eyeshadow to your eyes that further enhances your look.
9. Cat Eyes and Bold Lips
This cat-eye look involves winged eyeliner, mascara, and bold lip colour. It makes you look extremely gorgeous. You can attend any function that has a modern theme. It is used to highlight your features with trendy winged eyeliner. It makes your eyes look a little bolder by using a highlighter on the nose and cheeks.
10. Purple Lips with Glossy Eye Makeup!
People nowadays try to get a purple shade on their lips too. They apply shiny purple lipstick on their lips which looks gorgeous. Usually, women match purple lips with purple outfits. You may feel flawless with these purple lips and eye makeup.
So, we have discussed with you the top 10 party makeup ideas. You can go for any of them and look amazing. However, if you require some more makeup ideas from beauty experts, contact us at CuDel, a leading beauty salon at home.