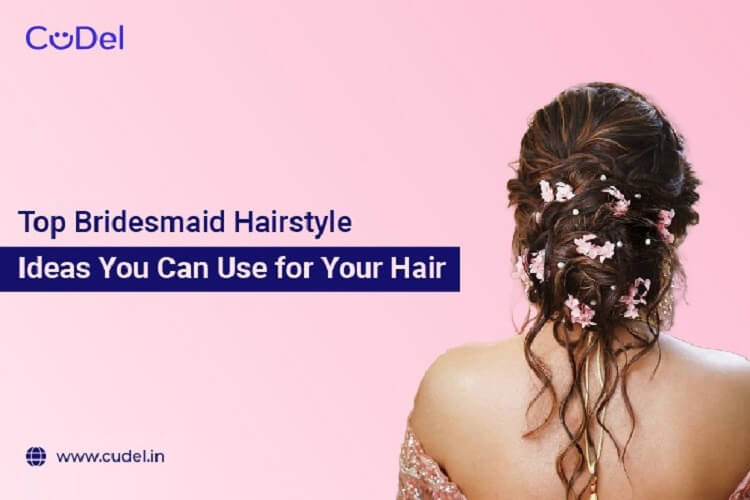 A wedding is a big day in everybody's life. It brings joy and celebration to the house of the bride and groom. All friends and relatives start preparing for major wedding rituals. From mehendi, haldi to the proper marriage feras, there is a lot to think over. Dresses, footwear and jewellery, and even hairstyle are the points of discussion at a wedding. When you talk about bridesmaids, they cannot bring themselves back into anything. As they are the second most attention seekers after the bride. Bridesmaids select the best dresses, makeup, and hairstyle to look outstanding.
We are here discussing some of the best Hairstyle Ideas for Bridesmaids. They can wear anyone they find suitable and elegant as themselves.
1. Puffy Waterfall Braid
There are a lot of bridesmaid hairstyle ideas to implement on your best friend's Big Day. If you have long hair, you can go for a Puffy Waterfall Braid. It looks great when worn with colourful lehengas. Your hair looks like a waterfall flowing down with elegance. You can maintain your soft hair curls and beads to make them more glamorous.
2. Messy Waterfall Braid
A messy Waterfall Braid is one of the best hairstyles for bridesmaids. It grabs the attention of everyone attending your best friend's wedding. As it flows down like a waterfall, you can set some floral accessories from start till the end. You can easily wear it to get a magnificent look.
3. Ponytail with Beads
When you want to keep something simple yet elegant, you can choose a Ponytail with Beads hairstyle. It makes you look heart-stealing and cute at the same time. You can have this hairstyle on your best friend's big day with confidence. It will look amazing with soft curls as well.
4. Waterfall Braid
Having a waterfall braid hairstyle makes you look fabulous. It can be made easier with a little practice at home. But wearing it with professional guidance can enhance the final look. You can have this hairstyle to impress onlookers. It is lovely and goes for every function like- Mehendi, Haldi, or Sangeet as well.
5. Medium Length Hairstyle
Bridesmaids having middle-length hair can go for this hairstyle. It brings people's attention to the charm of your hair. You can implement this spellbinding hairstyle idea this wedding season. Floral hair clips can be part of your middle-length hairstyle idea. You can make cameramen focus on the functions with this hairstyle idea.
6. Mermaid Waves
Having Mermaid Waves is one of the best hairstyle ideas. You can look different and adorable at the same time. You should try this hairstyle using a hair curler.
7. Half Updo with Curls
A half updo with curls is a great hairstyle idea for your friend's wedding. It is a simple and elegant way to garner people's attention. It can be made more beautiful with accessories on curls. You can grab the attention by having this top-rated hairstyle once or again in different functions.
8. Curls with Braided Crown
Curls with a braided crown are a great hairstyle for bridesmaids. It is one of the simplest and most beautiful hairstyles. You can steal the show with this hairstyle at your best friend's wedding. You will look simple and elegant.
9. A Classic Bun Idea with Curls
Wearing a classy bun with curls is an elegant hairstyle. It supports your professional as well as personal look at the same time. You can put on this hairstyle idea to bring the attention of the crowd so well. It makes you outstanding without a lot of effort. Bring your curls side by side to make them more beautiful.
10. Messy Braid
A messy braid is one of the cutest hairstyle ideas for bridesmaids. It is a trending pony hairstyle that makes you the cutest and most eye-catching. Your relatives will look at you in amazement. This hairstyle idea can be also accessorised with some effort.
We have discussed some of the Top Bridesmaid Hairstyle Ideas you can use. It can be made easily at home. However, if you require beauty professionals to give you any of these hairstyles, contact CuDel, which provides beauty salon services at home.