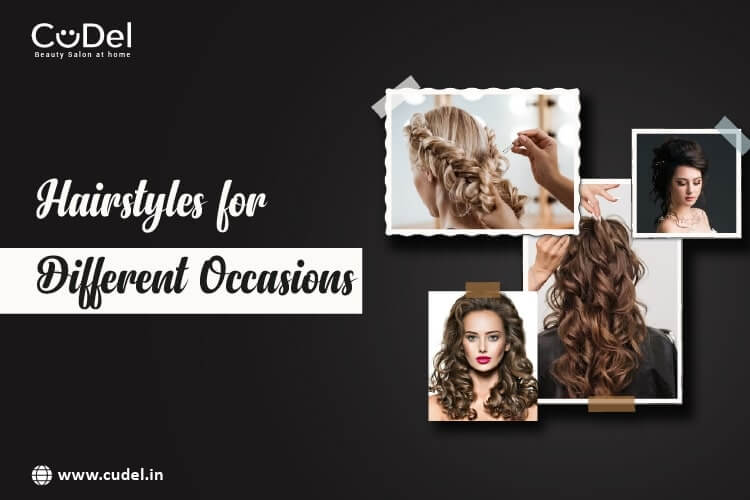 You are ready to attend some occasion but do not have an idea about the hairstyles. This not only consumes your time but also imbalances your overall look. Like we wear matching jewellery and makeup with our customers, we have to follow the same with our hairstyle. 
Like, if you make a bun with gajra and wear jeans with a shirt, don't you think it looks awkward somewhere? But this bun with saree can become a show-stopper for you. There are several hairstyles you see around you, but which goes with which occasion can be a question for many. If you are also struggling to find answers to the same, be with us in this blog and pick a hairstyle for you. 
1. Hairstyle for Office 
This hairstyle is meant for a classic yet elegant persona. Use flatiron to straighten your hair,  grab them near the nape of your neck using a good rubber band. To achieve a more polished look, take some hair from your ponytail and twist them around your rubber band.  
Effortlessly stylish, messy waves can be the perfect balance between casual and sophisticated persona. Before using curlers on your hair, apply a good heat protectant. Then with the help of a curler, make good loose waves. After that, comb your hair to give them a more natural finish. Now spray a good light-hold hairspray to maintain the style throughout the day.
A classic French twist can add an instant sophistication to any outfit. Comb your hair and secure it using a rubber band at the nape of your neck and twist it upwards. Secure it using bobby pins. Now twist the left hair from the end of your ponytail and secure them discreetly. You can also decorate this hairstyle using some accessories with a decorative hairpin or a silk scarf.
2. Hairstyle for Wedding 
If you are blessed with long hair, show off them by creating these long smooth curls. Spray a hair protectant and start styling your hair using a good curler. Now spray a frizz-fighting product before clicking photos, so that they stay shiny and smooth all day. 
Modern Curls with Central Part 
You can try this bold with a cool girl bridal hairstyle. Comb your hair part down the centre, and tuck the remaining hair behind the ear. You can also secure them using pins for a more polished and modern wedding day hair look. Take your curler and curl the ends of your hair. To secure your curls, use hair spray and ready to rock in a party.
Create Soft Curls with Braid and Floral Hair Pins
Want a beautiful hairstyle that matches your floral dress? Soft curls with braid and floral hair pins can be a good choice. Try to add a crown braid and secure using floral hair pins to your half-up curls. 
3. Party Hairstyle 
To achieve a stylish party hairstyle look using your long hair, you have to create voluminous beachy waves using a large barrel curling tong. You can add shine to your hairstyle using a good hair oil or serum. 
If you are in a hurry and want to create a simple hairstyle, make a heavy ponytail. You can easily create this high ponytail look. This hairstyle works well on freshly washed hair. Don't forget to moisturise the ends of your ponytail to give it a more polished look 
If you have short hair, this hairstyle is the perfect go-to for when in doubt. Use a curling wand to wave your hair, use a good hair spray, and you're ready to rock the party with your glamour. You can also use a hair mask before creating this hairstyle as it provides more shine and softness to the hair.  
Conclusion 
These are some hairstyles you can opt for on any occasion. Before styling any of the hairstyles, don't forget to apply a good hair spray. After the party or wedding, you can also do post-care for your hair by applying a healthy hair mask. If you are searching for hair services near me, contact CuDel- a professional beauty salon. Just book your appointment and ask for the hairstyle. The hair stylist visits you with proper tools and provides you rejuvenated services.